[Workplace Culture, DEI]
module_1684077620100152
resource-center/accelerating-the-diversity-of-your-leadership-pipeline
module_1684077620100152
resource-center/accelerating-the-diversity-of-your-leadership-pipeline
Prioritize diversifying the leadership team
Organizations increasingly understand the importance and measurable benefits of diverse leadership in mission-critical roles.
The number of diverse leaders in companies throughout the country has improved in recent years. After all, as KPMG put it, "since 2020, the pandemic has painfully revealed social discrepancies and brought issues of diversity, equity, and inclusion at the workplace to light, pressing leaders to act on them".
A FEW NOTABLE STATS
what can you do...
...to advance diversity in leadership within your organization? Below we offer some actionable initial steps from best practice companies.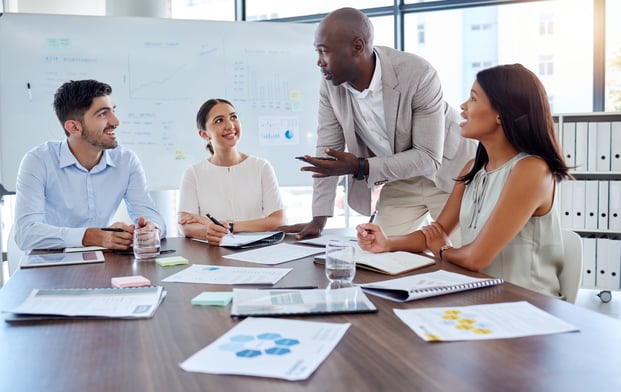 SET CONCRETE GOALS FOR DEVELOPMENT & PROMOTION

It is likely, you're achieving your DEI hiring goals but what about development and advancement? Decide how many POC/women you want to develop in the next several years and invest in their success. This allows you to build a diverse pipeline of executives.


Remember: the vast majority of employees (94 percent) say one of the reasons they stay with an employer is for the company's development opportunities.
Provide development opportunities

Professional development tailored for the unique context and related challenges that underrepresented and diverse communities face

Leadership skills - Diverse leaders have particular challenges that aren't addressed in one-size-fits-all training. Focus on specific skills, traits, behaviors, habits, and knowledge the diverse leader must master in order to be successful: Navigating and overcoming biases
Enterprise Excellence - Broad exposure to a range of business units and functions for a strategic understanding of the entire organization. Consider cross-functional stretch assignments for continuous learning.
Personal Impact - Assessments geared toward diverse leaders go a long way toward helping them understand how they currently show up as leaders and how they might use their unique abilities and experiences to drive results.
P&L exposure - Operational or general management leadership roles are key to diverse leaders acquiring the P&L responsibility often associated with senior executive leadership readiness.
C-Suite and Board Interaction - Create opportunities for diverse leaders to connect with the senior leaders of the organization. Offer occasions for underrepresented talent to be exposed to senior leadership at the highest levels. Provide them the opportunity to share their expertise and skill, thereby gaining name recognition and opportunity for consideration for advancement. Have different people work on a project together. Ask someone else to give the monthly report at the next meeting.
Develop inclusive leadership throughout the organization

This is the most impactful of all DEI efforts. Organizations must work to drive a cultural shift that includes self-awareness, curiosity, courage, vulnerability, and empathy among leadership mindsets, behaviors, and skills.
Inclusive leaders know how to unleash each individual's potential and foster an environment in which talent can thrive. According to Korn Ferry, inclusive leaders also:


Enable

individuals to feel free to bring their authentic selves to work


Provide

individuals with psychological security and a sense of empowerment to take risks


Reassure

individuals that there is equity and fairness and that they will be challenged with job stretch opportunities



Over the next several weeks, we will dig into each of these actionable steps in a blog series called Accelerating Development, Promotion, and Retention for Diverse and Underrepresented High-Potential Leaders.
Posted on December 5, 2022 by CNEXT
Share:

resource-center